Constantinos Kapodistrias
Executive Director / Owner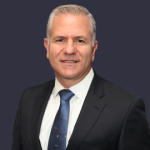 Contact Details
Address
54 Kantaras Street,
Kaimakli,
1037 Nicosia,
Cyprus
Born in 1968 in Nicosia, Cyprus. He served as a 2nd Lieutenant in the Special Forces (Cyprus National Guard) from 1986-1988. Later on, as a reserve officer, he was promoted to be a Lieutenant, a rank which he holds to this day. He graduated from the University of Arizona in the USA in 1993 with a degree in Business Administration (Human Resource Management). He received his MBA degree in 1995 from the University of Texas at San Antonio in the USA.
He was a member of the Society of Human Resource Managers (SHRM) of the USA as he received his PHR degree (Professional in HR Management) in 1993. Today, he is a member of the Cyprus Human Resource Management Association (CyHRMA). Since 1996, he holds the title "Import Parts Specialist" after passing the exams of the AIA (Auto International Association - USA).
He has been participating in many conferences, forums and seminars in Cyprus and abroad, concerning the automotive aftermarket industry, the economy, business, etc.
He has been working in the company since June 1995.